Software and Support
Isherwoods can provide a full range of Information Technology (IT) consultation and software development services.
Overview
From the initial proposal stage, optional customisation and subsequent installation of our IMIS&reg management systems Isherwoods provide invaluable advice, back-up and support services.

Our IT staff have extensive systems analysis, programming and computer networking experience. In addition to developing and customising the software, operational advice and help with hardware set-up, we are able to advise customers on the best training programmes for all levels of skill.
In addition to our System Implementation Services for routine installation of our computerised Maintenance and Supply Management System (IMIS&reg-MMS) or Integrated Logistic Support System (IMIS&reg-ILS) , we can provide the following Product Support Services:-
Software Support and Maintenance
Isherwoods unique IMIS&reg software uses in-house programs which our own staff manipulate to suit customers requirements. This in-depth familiarity with the software and its capabilities means that our help desk can offer appropriate and flexible advice, usually within a very short time.

Our aim is that any problems are very quickly resolved. It is usually possible to provide help and support without visiting the installation, but we can of course visit customer sites anywhere in the world if required.
Product Upgrades
If it is possible we will update or convert a manual or computer based system the customer is already using to the most recent version of our systems, operating with the most recently available software.

With an Isherwoods maintenance agreement on our established software, we will regularly issue software updates to keep systems running at peak efficiency. This ensures that with minimum disruption the customer will have access to the most recent technology available.
System Audits
Isherwoods can provide full database audit facilities to ensure the system is being used effectively. Periodically Isherwoods Staff can either visit a customers site or be sent the latest database and perform a full system audit and analysis. This analysis will provide customers with an invaluable reference of maintenance efficiency and system performance. We will tailor the audit scope and frequency to each customers requirements and operational profile.
Helpdesk
Includes telephone, fax, Email support. If necessary data updates, problem solutions or general information may be sent via the internet, on physical media or remote access directly into the system where configured.
System Requirements
The Isherwoods IMIS&reg system can be configured to run in many configurations from a stand alone laptop computer to a multi-site enterprise using a Local Area or Wide Area Network (LAN or WAN).
Development and Customisation
Isherwoods provides unique IMIS&reg software to run its computerised Maintenance Management Systems (MMS) and Integrated Logistic Support (ILS).

Our standard IMIS&reg packages can be installed and used immediately as a result of our unique turnkey approach to systems production and deployment.

Should the standard IMIS&reg packages require customisation or additional functionality to meet your specific business processes, Isherwoods will be happy to provide a fully customised system to meet you needs. Analysts will work with you throughout the development to ensure a seamless transition to the IMIS&reg system.

The IMIS&reg package is entirely developed by Isherwoods which allows for total freedom in the devlopment of the product to meet our customers needs. Should these needs change in the future, we can customise or extend the system to reflect these changes.

Isherwoods also provides bespoke development services to customers for projects which are outside the extensive scope of our IMIS&reg products. Where an existing product is not available or cannot be found, Isherwoods can design and develop custom software based on your exact requirements.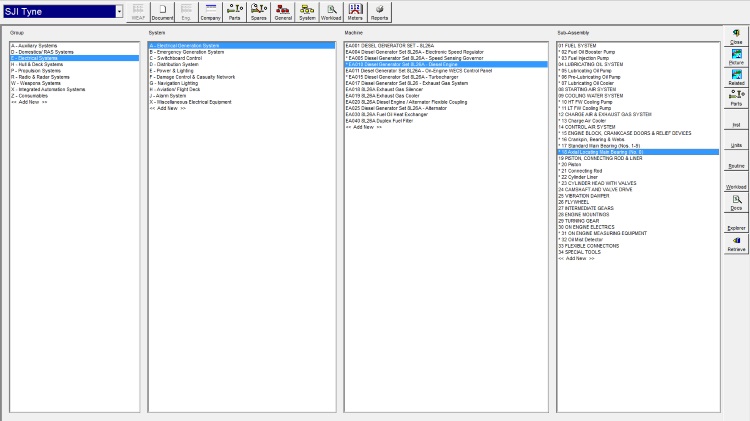 Training
Isherwoods have extensive experience in providing in-depth training programmes for successful operation of our Computerised Maintenance Management Systems.

We can also provide separate course programmes tailored to meet the requirements of maintenance engineering, operational base or management offices staff.

Isherwoods can arrange ongoing training programmes either in the UK or the customer's own country. These can be included as part of a 'Transfer of Technology' programme. We can provide real-time multilingual training courses if required.

When we design a training programme, it may include the award of appropriate internationally recognised and approved courses e.g. Microsoft or Cisco, with provision of validated certificates upon successful completion of the courses.

We can provide follow up or supplementary training as required. We can customise and tailor this to include the customers own business policies and procedures.

Our outline work programme would be:-
Initial consultation
Training needs assessment
Training plan devised
Coursework development
Final consultation
Training delivery